Artist
June 06/09/16, 2016
Global Guitar SummitFeaturing Konarak Reddy (India), Matthew Montfort (USA), and Teja Gerken (Germany)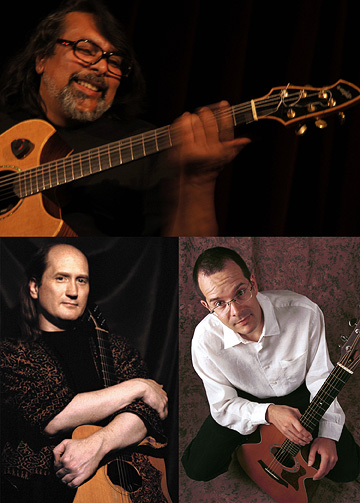 Konarak Reddy, Matthew Montfort, and Teja Gerken Hi-Res Photo (1.9 MB):
www.ancient-future.com/images/konarak_matthew_teja300dpi5x7.jpg
Sunday, July 31, 6:30 PM - 9 PM
Fenix
919 Fourth Street
San Rafael, CA 94901
Tix: $12 advance, $15 door. For advance tix and reservations, visit www.fenixlive.com/dining/reservations, call 415-813-5600 or email info@www.fenixlive.com
Venue website: www.fenixlive.com
Thursday, August 4, 2016, 7:30 PM
Don Quixote's International Music Hall
6275 Highway 9
Felton, CA 95018
Tix: $12 advance, $15 door. Info: Call 831-603-2294 or email tmm@cruzio.com
Venue website: www.donquixotesmusic.info
Saturday, August 6th, 6:30 PM
Gryphon Stringed Instruments
211 Lambert Ave.
Palo Alto, CA 94306
Tix: $20 suggested donation. Info: Call 650-493-2131 or email michael@gryphonstrings.com
Venue website: www.gryphonstrings.com
Friday, August 12th, 8 PM
Sebastopol Community Center Annex
425 Morris St.
Sebastopol, CA 95472
Tix: $20 advance, $23 door. For advance tix and reservations, call Kevin at 707-824-1858 or email krussellmft@aol.com
Venue website: www.seb.org
This Global Guitar Summit presents three international acoustic guitar virtuosos who will perform solo and ensemble pieces. The summit features Indian nylon string guitarist Konarak Reddy, American scalloped fretboard and fretless guitar pioneer Matthew Montfort, and German fingerstyle guitarist Teja Gerken.
Poster (100 k .pdf): www.ancient-future.com/pdf/pdf/global_guitar_summit2016poster.pdf
Konarak Reddy


Konarak Reddy Hi-Res Photo (682 k):
www.ancient-future.com/images/konarak300dpi5x3.jpg
Hailing from Bangalore, India, Konarak Reddy is a legend among music aficionados in his home country. From the start, Konarak drew his inspiration from multiple sources, immersing himself in both Western classical theory on guitar and traditional Indian music on the sarod, which he studied with Gurus Debi Prasad Ghosh and Rajeev Taranath. Konarak later studied jazz improvisation at Boston's Berklee College of Music and the Musician's Institute in Hollywood, from which he graduated with honors. Today, his playing integrates Hindustani and Carnatic styles into contemporary solo guitar masterpieces, which frequently include live looping. Konarak was featured in a TEDx talk in 2013 (www.youtube.com/watch?v=a0ZP-hG7CN4), he frequently performs in Europe, and his own World Guitar Night, which has become an annual event in Bangalore, and featured international guitarists such as Andy McKee, Don Ross, Kevin Eubanks, Peter Sprague, Peter Finger, and others. His two albums, Searching for the Goddess and Solar Avatar have received critical acclaim. For more info, please visit www.konarak-reddy.blogspot.com.
Video
Konarak Reddy performing live in Budapest:
www.youtube.com/watch?v=2DMYe5YHq6U
Press
"He is known as one of India's most versatile guitarists. For over 35 years he's absolutely ruled the roost. Konarak Reddy has needed no introduction." - BANGALORE MIRROR BUREAU
Matthew Montfort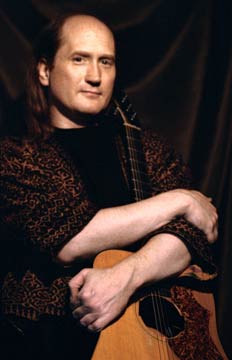 Matthew Montfort Hi-Res Photo by Julie Marten (2 MB):
www.ancient-future.com/images/matthewmontfort600.jpg
Matthew Montfort is the leader of the world music ensemble Ancient Future. Featured in the December 2009 commemorative Les Paul issue of Guitar Player Magazine, Montfort is a pioneer among guitarists who have had their fretboards scalloped in order to play various forms of world music that require intricate note-bending ornaments while still being able to play chords. Montfort immersed himself in an intensive study with vina master K.S. Subramanian in order to fully apply the South Indian gamaka (note-bending) techniques to the guitar. He has released two solo CDs: Seven Serenades for Scalloped Fretboard Guitar and Sympathetic Serenade, for which he is recognized as one of the world's 100 Greatest Acoustic Guitarists by DigitalDreamDoor.com , a curated "best of" site, along with such luminaries as Michael Hedges, Leo Kottke, Chet Atkins, John Fahey, Adrian Legg, Merle Travis, John Renbourn, Tommy Emmanuel, Doc Watson, Pierre Bensusan, Toni Rice, Alex De Grassi, Stefan Grossman, Artie Traum, Joni Mitchell, and Peppino D'Agostino. He is also known for his work on Glissentar (11 string fretless guitar), electric guitar, flamenco guitar, sitar, charango, mandolin, and gamelan. He has performed concerts worldwide, from the Festival Internacional de la Guitarra on the golden coast of Spain to the Festival of India in Mumbai. He has worked with many world music legends, including tabla phenomenon Zakir Hussain and Chinese zither master Zhao Hui. Montfort wrote the book Ancient Traditions – Future Possibilities: Rhythmic Training Through the Traditions of Africa, Bali, and India, which has been used by many musicians to improve their rhythm skills. For more info, please visit www.matthewmontfort.com.
Video
Matthew Montfort performing 'Soul Serenade' at Ancient Future's 30th Anniversary Concert:
www.youtube.com/watch?v=TLfKTbpgO1Q
Press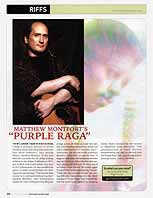 5 Page Guitar Player Magazine/GuitarPlayer.com Media Report (1.4 MB):
www.ancient-future.com/pdf/MatthewMontfortGuitarPlayerMag.pdf
"Because Montfort's guitar has a scalloped fretboard, his fingers touch only the strings, enabling him to produce ornaments more characteristic of the sitar. This album reveals a thorough knowledge of Hindustani microtonal ornaments, transferred in ways that create one of the most distinctive guitar sounds in contemporary music. However, it also reveals a lifetime of exploration in world music, which can be immediately summoned in a flash of inspiration. When this level of mastery is reached, there is no need to rewrite. The first improvisation has the depth of a reworked composition." – Teed Rockwell, INDIA CURRENTS, March 2009
Teja Gerken

Teja Gerken Hi-Res Photo (1 MB):
www.tejagerken.com/High_Res_Images/teja_color2.jpeg
More Hi-Res Photos:
www.tejagerken.com/photos/
German-born Teja Gerken is a contemporary steel-string fingerstyle guitarist whose playing merges the styles of European guitar pioneers such as John Renbourn and Pierre Bensusan with the distinct sounds of American players such as Leo Kottke and Micheal Hedges. Known for his original compositions, many of which employ alternate tunings, two-handed tapping, percussive effects, and other extended guitar techniques, Teja will also bring Celtic, jazz, and classical styles to the Global Guitars show. For more info, please visit www.tejagerken.com.
Video
Teja Gerken performing "1948" live:
www.youtube.com/watch?v=J7khy_8uhCA
Press
"Releasing his second CD, Postcards, is San Francisco area fingerstyle guitarist Teja Gerken, who delivers solo instrumental compositions with enough surprises and innovative twists to delight aficionados of the world music and folk genres. His tunes employ physical techniques such as two-handed tapping, alternate tunings, and percussive effects, but his developed sense of melody is what will keep his CD playing in your mind long after the 'stop' button is pressed. Another impressive feature is that Gerken's playing is captured without overdubs; the intricate arrangements delivered as you might hear the artist in concert. Gerken is one of a rare breed - a guitarist's guitarist with equal appeal for the non-musicians out there. His Postcards album is highly recommended." – GUITAR9.COM
About
Guitarist Matthew Montfort is known as a world guitar innovator and an inspiringmusic instructorwho helps students of all levels and ages learn whatever style they desire. He is on the100 Greatest Acoustic Guitaristslist atDigitalDreamDoor.comalong with such luminaries as Michael Hedges, Leo Kottke, Chet Atkins, John Fahey, Adrian Legg, Merle Travis, John Renbourn, Tommy Emmanuel, Doc Watson, P...
more
Welcome to EthnoCloud
A platform for Ethnically and Culturally inspired music.
80,000+ Global Followers
5,013 Artists
919 Industry Professionals