February 02/08/17, 2017

Ancient Future Times: Performances Celebrating 38 Years of World Fusion
Ancient Future Performs Live on KPFA, 94.1 FM, Feb. 9, 10 PM PST
•World Guitar Pioneer Matthew Montfort, Tabla Virtuoso Vishal Nagar, & Pianist/Santurist Mariah Parker
Trinity Chamber Concerts Presents Ancient Future Feb. 11, 8 PM
•38th Anniversary Show at Trinity Chapel, Berkeley
'Indo Latin Jazz Live In Concert' by Mariah Parker
•New CD Release on Ancient-Future.Com Records
Save the Dates: San Francisco International Arts Festival
•Guitar-Sitar Jugalbandi, June 1; Mariah Parker, June 3; Global Guitar Summit, June 4
---
Ancient Future Performs Live on KPFA, 94.1 FM, Feb. 9, 10 PM PST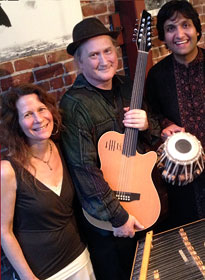 World Guitar Pioneer Matthew Montfort, Tabla Virtuoso Vishal Nagar, & Pianist/Santurist Mariah Parker
Ancient Future will be performing LIVE on Derk Richardson's "The Hear and Now" on KPFA 94.1 FM on Thursday, Feb. 9, at 10 PM PST. Listen on your radio, or stream it live from the link below. Afterwards, it will be archived for two weeks.
https://kpfa.org/program/the-hear-and-now/
---
Trinity Chamber Concerts Presents Ancient Future Feb. 11, 8 PM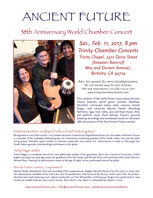 38th Anniversary Show at Trinity Chapel, Berkeley
Celebrating the exact 38th anniversary of their first concert, the trailblazing world music group Ancient Future will perform as part of the Trinity Chamber Concerts Series in Berkeley on February 11, 2017.
Blending ancient world music traditions from fiery flamenco to resonant raga with the contemporary colors of jazz and rock, this variation of the world fusion music group Ancient Future features world guitar pioneer Matthew Montfort, renowned Indian tabla virtuoso Vishal Nagar, and composer/pianist/santurist Mariah Parker performing new music and favorites from the band's eight ground breaking recordings.
Ancient Future is the first and longest running musical organization dedicated exclusively to the mission of creating world fusion music. The term was coined by bandleader Matthew Montfort in 1978 to describe Ancient Future's unusual blend of musical traditions from around the world. BILLBOARD calls the group "trendsetters" for their early contributions to the movement, which seeks to show how people from different cultures can grow by learning from each other. Their first concert was February 11, 1979, at the original Sleeping Lady Cafe in Fairfax, California.
Saturday, Feb. 11, 2017, 8 PM
Trinity Chamber Concerts
Trinity Chapel
2320 Dana Street between Bancroft Way & Durant Avenue
Berkeley, CA 94704
Tix: $20 general, $15 senior/disabled/student. No one will be turned away for lack of funds.
Info and reservations: 510-778-1719 or email info@trinitychamberconcerts.com. Press Release. Facebook Event.
---
'Indo Latin Jazz Live In Concert' by Mariah Parker
New Release on Ancient-Future.Com Records
Indo Latin Jazz Live In Concert by Mariah Parker (Ancient-Future.Com AF-20142).
Released Jan. 20, 2017, Indo Latin Jazz Live in Concert captures the magic of the concert debut of Mariah Parker's Indo Latin Jazz Ensemble in front of a full house at Yoshi's in Oakland, as well as subsequent concerts at Berkeley's Freight & Salvage, the Throckmorton Theater in Mill Valley, and Bob Weir's TRI Studios in San Rafael.
"A collection of smartly imagined original tunes that touch on range of cultural influences. You'd expect nothing less from a cast a master musicians whose credits range from Wynton Marsalis to Sun Ra to Bolivian pan flute maestro Gonzalo Vargas. The cultural mix changes from song to song and often within the song. Reeds master Paul McCandless starts the opening track, 'Affinity Minus One,' with a passage that lightly but firmly references Indian classical music before shifting into a more Coltrane-y mood later in the song. Guitarist Matthew Montfort similarly does a brilliant sitar imitation at the start 'Close Passage' before dialing back to a more natural timbre. The group makes its boldest cross-cultural stand with 'Sangria,' which combines McCandless's Indian-flavored musings on oboe and bass clarinet, yet more of Montfort's sitar evocations and Rice variously suggesting flamenco and salsa with his percussive flourishes. Plus Parker playing the santur, a dulcimer of Persian origins. On paper, it looks like a recipe for disaster, but the musicians pull it off with aplomb. So who cares if the zeitgeist is turning to xenophobia and isolationism—viva multiculturalism!" – David Becker, AllAboutJazz.Com
---
Save the Dates: San Francisco International Arts Festival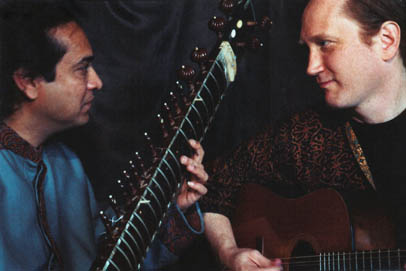 Guitar-Sitar Jugalbandi, June 1; Mariah Parker, June 3; Global Guitar Summit, June 4
Ancient-Future.Com Records artists will perform three different concerts as part of the San Francisco International Arts Festival at Fort Mason. Save the dates for these three unusual performances!
Ancient Future Guitar-Sitar Jugalbandi, June 1, 7:30 PM, Chapel
Jugalbandi is a classical North Indian musical duet (meaning literally "tied together"). The guitar is not often used in the music of India. However, Matthew Montfort has studied sitar and is a pioneer of the scalloped fretboard guitar, an instrument combining qualities of the South Indian vina and the steel string guitar. This jugalbandi works well because Matthew Montfort is a guitarist with knowledge of sitar, and Pandit Habib Khan has been described as the "Jimi Hendrix of the sitar" by L'Orient le Jour, Beirut's French language newspaper. They will be accompanied by tabla master Ferhan Qureshi.
Mariah Parker's Indo Latin Chamber Jazz Quintet, June 3, 6 PM, Gallery 308
According to Latin Beat Magazine, "Parker and friends blend the rhythmic syncopations of Latin jazz music with the entrancing, asymmetrical meters of East Indian rhythms resulting in first-class world music." Paul Liberatore of the Marin Independent Journal says they "fuse Latin rhythms with influences from South America and India with a dash of straight-up American jazz… an intoxicating blend of East and West. Like all the best jazz bands, this group is as disciplined as it is innovative." This chamber variation of the ensemble with its emphasis on strings will explore new compositions as well as rearrangements of existing work.
Global Guitar Summit, June 4, 3 PM, Chapel
This Global Guitar Summit presents three international acoustic guitar virtuosos who will perform solo and ensemble pieces. The summit features American scalloped fretboard guitar and world fusion music pioneer Matthew Montfort, master Italian guitarist and musicologist Giacomo Fiore, and German fingerstyle guitarist extraordinaire Teja Gerken. The music performed will include new arrangements of classical works, Celtic music, Indian classical, contemporary compositions, popular songs, and much more.