Artist
November 11/21/15, 2015
In 1980, Ancient Future founding members Matthew Montfort and Mindia Devi Klein went to Bali to study gamelan. They saw paintings of frogs performing gamelan music, and were inspired to go out into the rice paddies at night and jam with the frogs, which resulted in this cross-cultural and interspecies piece that was released on Ancient Future's second LP, Natural Rhythms:
Frog Orient Chance (Play on Ethnocloud)
Bali was a magical experience for them. They lived in a village without electricity and walked through the rice paddies to their morning lessons with their gamelan teacher, I Madé Gerindem. It was an almost ideal peasant society: the people owned their ancestral land plots and were able to make a living by farming rice. This took a few hours a day, and the rest of their time was spent on family, art, music, and ceremony. At that time, those who were part of the tourism economy had modern conveniences like electricity and motorcycles. They were increasing their material wealth, but had no time for art or music. It was obvious that modern technology, which was supposed to save time, was actually having the opposite effect.
Today, Bali is experiencing a real estate boom that is enticing people to sell their land for development. Once they trade their land for money, do they have more time for art and music? Is the future more secure for their children? Meanwhile, the remaining rice paddies are suffering pollution due to monoculture crops that require pesticides and chemical fertilizers, which does not bode well for the people or the rice paddy frogs.
This is a good lesson for us all. The promise of modern technology is to free up time for other pursuits. But, what actually happens with every advance is that a few people benefit financially, while the rest are forced to work longer and harder. The technology itself has a way of sucking up time (how much time do you spend on social media?), and even those benefiting financially are very busy managing their assets. And all the while, we are destroying the environment. Clearly, we aren't going to be giving up on technology, but we need to find a way to use it in a way that sustains life and culture, rather than disrupts it, to use the current buzz term of those profiting in the tech boom.
Rather than disrupt creativity, culture, and the environment for quick profits, we need to value the actual cultures and ecosystems that sustain life. We need organizations such as Sawah Bali, which is working to conserve Bali's rice paddies, return to sustainable farming, and create new markets for farmers, which will certainly have a beneficial effect on rice paddy frogs as well as Balinese culture. In the digital economy, we need organizations like the Content Creators Coalition, which is working to increase the value of art so that creators can sustain themselves.
Ancient Future Circa 1981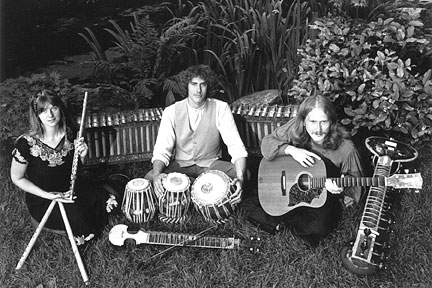 Pictured: Mindia Devi Klein (silver flute, bansuri, Balinese gangsa), Benjy Wertheimer (tabla, esraj), Matthew Montfort (scalloped fretboard guitar, sitar, Balinese gangsa)
About
World's Longest Running Band Dedicated to the Creation of World Fusion Music
"Ancient Future offers evocative world music imbued with graceful simplicity."–Bob Tarte,THE BEAT
BILLBOARD calls the group"trendsetters"for contributing to the emerging movement known asworld fusion music, a term Ancient Future leader Matthew Montfort coined at the band's ...
more
Genre
fusion
,
traditional
,
african
,
micronesian
,
world fusion music
,
north indian
,
south indian
,
samba
,
jazz
,
celtic
,
andean
,
vietnamese
,
balinese gamelan
,
arabic
,
rock
,
european classical
,
caribbean
,
reggae
Welcome to EthnoCloud
A platform for Ethnically and Culturally inspired music.
80,000+ Global Followers
4,819 Artists
909 Industry Professionals