Artist
March 03/08/15, 2015
Ancient Future Pacific Northwest Concert Tour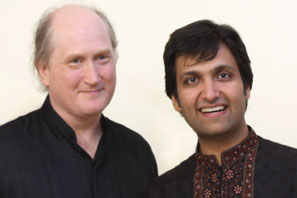 Hi-Res Photo of Matthew Montfort and Vishal Nagar by Devki (1 MB)
Featuring World Guitar Pioneer Matthew Montfort and Tabla Virtuoso Vishal Nagar
With Special Guest Seven-String Fretless Bassist Jason Everett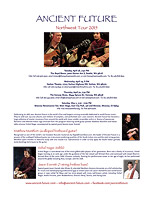 Tour Poster (145k .pdf)
Tuesday, April 28, 2015, 7:30 PM
The Royal Room
5000 Rainier Ave S
Seattle, WA 98118
Info: Call 206-906-9920, email tristan@theroyalroomseattle.com, or visit theroyalroomseattle.com
Tix: $15 adv/$18 door. Advance tix at strangertickets.com/events/23464505

Wednesday, April 29, 2015, 8 PM
Vashon Theatre
17723 Vashon Highway SW
Vashon, WA 98070
Tix: $15 adv/$18 door. Advance tix at ancientfuturevashon.brownpapertickets.com
Info: Call 206-229-8491 or email jason@misterEmachine.com
Thursday, April 30, 2015, 7:30 PM
The Conway Muse
18444 Spruce St.
Conway, WA 98238
Sponsored by the Rick Epting Foundation for the Arts
Info: Call 360-445-3000, email elfa@conwaymuse.com or visit conwaymuse.com
Tix: $15 adv/$18 door. Advance tix at brownpapertickets.com/event/1311376

Saturday, May 2, 2015, 5:30 - 7:00 PM
Moscow Renaissance Fair
Main Stage
East City Park, Third and Monroe Streets
Moscow, ID 83843
Info: Visit moscowrenfair.org
Tix: Free admission.
Facebook: facebook.com/moscowrenaissancefair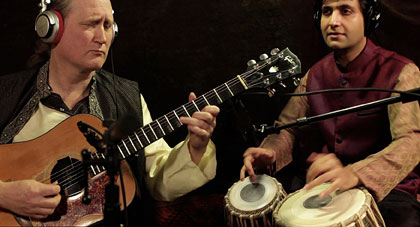 Hi-Res Photo of Matthew Montfort and Vishal Nagar at Recording Session by Michael Braden (858k)
This is the first Ancient Future tour of the Pacific Northwest in a decade. Celebrating its 36th year, Ancient Future is the world's first and longest running ensemble dedicated to world fusion music. They've sold over 150,000 albums and millions of samplers, and performed over 1,000 concerts. Ancient Future has become a large collective of master musicians from around the world with many smaller ensembles within it. Each program focuses on the traditions of the master musicians involved.
Strains of passionate flamenco and ethereal Indian raga emanate from this program featuring world guitar pioneer Matthew Montfort and renowned Indian tabla virtuoso Vishal Nagar. For a portion of the show, special guest and Seattle area fav Jason Everett (aka Mister E) will accompany them on seven-string fretless bass. The program will feature music from the ground breaking world music recordings of Ancient Future, including the first audio/video release in Ancient Future history, 2014's Yearning for the Wind.
"Matthew Montfort subtly coaxes remarkably flowing lines from his scalloped fretboard guitar. And Indian tabla virtuoso Vishal Nagar intuitively places incredibly intricate rhythmic patterns into the piece. Ancient Future has been making wonderful world fusion music for three decades. The possibilities remain infinite." — Paul Freeman, PALO ALTO DAILY NEWS
Matthew Montfort (scalloped fretboard and fretless guitars)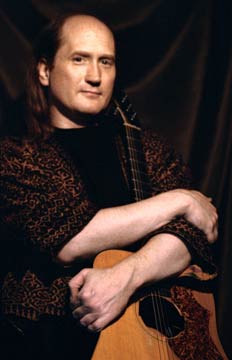 Hi-Res Photo of Matthew Montfort by Julie Marten (2 MB)
The leader of the world music group Ancient Future, Matthew Montfort, is a pioneer among guitarists who have had their fretboards scalloped in order to play various forms of world music that require intricate note-bending ornaments while still being able to play chords. Montfort immersed himself in an intensive study with vina master K.S. Subramanian in order to fully apply the South Indian gamaka (note-bending) techniques to the guitar. He has released two solo guitar recordings: Seven Serenades for Scalloped Fretboard Guitar and Sympathetic Serenade, for which he was lauded as one of the world's 100 Greatest Acoustic Guitarists by DigitalDreamDoor.com, a curated "best of" site, along with such luminaries as Michael Hedges, Leo Kottke, Chet Atkins, John Fahey, Merle Travis, Tommy Emmanuel, Doc Watson, and Alex De Grassi. The December 2009 Les Paul issue of Guitar Player Magazine includes a full page feature on Matthew Montfort with a corresponding GuitarPlayer.Com video and lesson entitled "The Music of Jimi Hendrix Applied to Indian Raga." He has performed concerts worldwide, from the Festival Internacional de la Guitarra on the golden coast of Spain to the Festival of India in Mumbai. He has performed live on national radio and TV shows such as the Echoes Living Room Concerts on Public Radio International, and the Rachel Maddow Show on MSNBC. He has worked with many world music legends, including tabla phenomenon Zakir Hussain and Chinese zither master Zhao Hui. Montfort wrote the book Ancient Traditions – Future Possibilities: Rhythmic Training Through the Traditions of Africa, Bali, and India, which has been used by many musicians to improve their rhythm skills.
Vishal Nagar (tabla)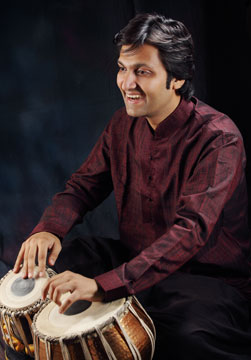 Hi-Res Photo of Vishal Nagar by Inni Singh (5 MB)
"He has magic in his hands" — Hindustan Times
Vishal Nagar is considered one of the most gifted tabla players of his generation. Born into a family of musicians, as a child he was fascinated by tabla and began to play at an early age. Vishal had his initial training for a very brief period with the late Ustad Latif Ahmed Khan of the Delhi Gharana. After his Ustad's untimely demise, Vishal continued his training under the guidance of Ustad Shamim Ahmed Khan of the same Gharana (school). Along with the dense and rare tabla repertoire (taleem) which he received from his Ustad, he also has had intense rhythmic (layakari) training from his mother, the renowned and highly respected Kathak dancer and vocalist, Urmila Nagar. Vishal has been praised in the Indian press for his unique combination of melodic tabla sound production with masterful command of rhythm. Vishal has had the privilege of performing with many renowned artists: Ustad Shujaat Khan, Guru Urmila Nagar, Vidhwan Trichur Ramachandran, Pandit Ramesh Misra, and Kala Ramnath, to name a few. Vishal has also expanded his cultural boundaries and collaborated with musicians from around the world. Some of his memorable works have been with the Ghanaian Guitarist Koo Nimo with whom he also appeared in WOMAD USA (a leading world dance and music festival started by Peter Gabriel). Starting his performance career at the age of eight in Patna, Vishal has performed around the globe including performances in many cities in India, Sweden, Germany, Denmark, Thailand and the United States. Vishal has also been awarded with the Ministry of Culture Scholarship from the Department of Culture.
Jason Everett (seven-string fretless bass)

Hi-Res Photo of Jason Everett (1.4 MB)
"A wonderful bassist to check out!" — BASS FRONTIERS MAGAZINE
Jason Everett (aka Mister E) is a multi-instrumentalist, composer, arranger and producer who plays a variety of stringed and percussive instruments including his custom Conklin seven-string fretless bass guitar. Jason attended Northern Arizona University on a full scholarship for music and started playing professional gigs at sixteen years old. He was originally inspired to explore world music after hearing Quiet Fire, the title track to Ancient Future's third album. This passion for world music evolved to avid listening to the works of Indian masters like Ali Akbar Khan, Ravi Shankar, and Zakir Hussain as well as fusion artists like John McLaughlin, Trilok Gurtu, Matthew Monfort, Pharaoh Sanders, and George Brooks. Jason started his own world fusion group in 1990 called Tal Maya and has since played with many well-known Indian, Arabic, jazz fusion and flamenco artists including Vishal Nagar, Andre Feriante, John Wubbenhorst, Overton Berry, Tarana, and Facing East.
Recent RecordingsYearning for the Wind by Ancient Future

Yearning for the Wind by Ancient Future. Ancient-Future.Com AF-90352. Signed Audio/Video E-CD-R-$17.98: Buy Link. >audio.
Composed by scalloped fretboard guitar innovator Matthew Montfort, Yearning for the Wind is a poignant piece based on Rag Kalyan, an evening raga that corresponds to the Lydian mode. The composition in three movements also incorporates harmony and other guitaristic elements. A duet with Indian tabla virtuoso Vishal Nagar, Yearning for the Wind is set in matta tal, a nine beat rhythmic cycle. As a bridge between the slow and fast sections of the piece, Vishal Nagar performs an elegant tabla solo over the soft nine beat groove that slowly builds up to a vibrant rela (a fast tabla composition characterized by rapid drum rolls). Released in HD video and hi-res 96/24 audio, Yearning for the Wind was produced for the Archive of Future Ancient Recordings.
"For fans of world fusion music, it doesn't get much better than this." — Peter Thelen, Exposé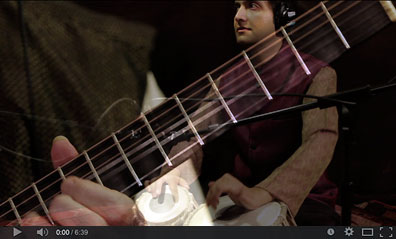 Video of 'Yearning for the Wind' with Matthew Montfort and Vishal Nagar
The Archive of Future Ancient Recordings by Ancient Future

Archive of Future Ancient Recordings by Ancient Future. (Ancient-Future.Com AF-2030). Recording Newsletter Package (128kbps MP3): $15. Buy Link. Download Supporter Package (320 kbps MP3): $25. Buy Link. Limited to 300 packages. Limited Edition CD Sponsor Package (CD quality .wav): $50. Buy Link. Limited to 200 packages. Honorary A & R Representative Package (Hi-res 24 bit .wav): $75. Buy Link. Limited to 100 packages.
During Ancient Future's 30th anniversary year, work started on the next project of the band: the Archive of Future Ancient Recordings (A.F.A.R.). To finance the project, a subscription system model is being employed to fund the recording through fans of world fusion music. The archive already has 70 minutes of music available right now to supporters, with more coming as money is raised for production.
Planet Passion by Ancient Future

Planet Passion by Ancient Future (Ancient-Future.Com AF 2010) $17.98: Buy Link . >audio.
Planet Passion by Ancient Future features nineteen top masters of of Indian, Nepalese, African, Cuban, Celtic, Arabic, Palestinian, Jewish, Indonesian, Chinese, Eastern European and American music traditions performing music on the theme of mythical stories of love.
"If the members of the United Nations formed a world-fusion band, it might look and sound a little something like Ancient Future's re-issue of their seventh recording. At its best, Planet Passion strives to preserve the world's vast musical heritage via international collaboration: the idea that one protects the old by creating something new. This is at the heart of fusion music and the heart of Ancient Future's global aesthetics, too: a diverse, unified world without borders, a multicultural community, a new, reconstituted sonic reality." — Ryan Allen, LEO WEEKLY, Louisville, Kentucky
About
World's Longest Running Band Dedicated to the Creation of World Fusion Music "Ancient Future offers evocative world music imbued with graceful simplicity." – Bob Tarte, THE BEAT BILLBOARD calls the group "trendsetters" for contributing to the emerging movement known as world fusion music, a term Ancient Future leader Matthew Montfort coined at the...
more
Genre
fusion
,
traditional
,
african
,
micronesian
,
world fusion music
,
north indian
,
south indian
,
samba
,
jazz
,
celtic
,
andean
,
vietnamese
,
balinese gamelan
,
arabic
,
rock
,
european classical
,
caribbean
,
reggae
Welcome to EthnoCloud
A platform for Ethnically and Culturally inspired music.
80,000+ Global Followers
4,488 Artists
884 Industry Professionals