Artist
When:
Location:
Sierra City

-

California

,

United States
Venue:
Kentucky Mine Amphitheater, 100 Kentucky Mine Rd.
Kentucky Mine Amphitheater, Sierra City, September 1

Color for print (6" x 3" jpg, 1.3 MB). Color for web (432 x 216 color jpg, 32 k). Pictured: Matthew Montfort (guitar), Aditya Kalyanpur (tabla), Doug McKeehan (keys).

Ancient Future Featuring Matthew Montfort (scalloped fretboard guitar), Doug McKeehan (keys), and Aditya Kalyanpur (tabla)

Sunday, September 1, 3 PM
Music at the Mine
Kentucky Mine Amphitheater
100 Kentucky Mine Rd.
Sierra City, CA 96125
Tix: $22 adv., $25 door, $10 kids 7 to 17 years old. Kids 6 and under are FREE! Buy Tix.
Ticket URL: https://www.eventbrite.com/e/ancient-future-tickets-58943375222
Venue Email: cstockrock@gmail.com
Venue Phone: 530-862-1076 (Chris Stockdale)
Facebook Event URL: https://www.facebook.com/events/584815992045635

Ancient Future returns to perform at the Music at the Mine series at the Kentucky Mine Amphitheater for the first time since 2000. This uptempo program features world guitar pioneer Matthew Montfort, virtuoso keyboardist Doug McKeehan, and world famous Indian tabla phenomenon Aditya Kalyanpur.

Montfort and McKeehan have played hundreds of concerts together with master musicians from many different traditions, and Montfort and Kalyanpur are known for their duet program that emanates strains of passionate flamenco and ethereal Indian raga and fires up crowds at outdoor festivals. This virtuoso trio's uptempo program is an exhilarating and improvisatory take on Ancient Future's broad repertoire.

Featured MusiciansAditya Kalyanpur (Indian tabla)

Hi-Res Photo (300 dpi, 6.5" x 4.5") of Aditya Kalyanpur

Beginning his studies at the age of five under the vigilance of tabla maestro late Ustad Allarakha and tabla maestro Ustad Zakir Hussain, Aditya is considered as one of the most promising torchbearers of the Punjab Gharana style of tabla performance. Aditya was first seen with his guru Ustad Zakir Hussain for the famous "Wah Taj!" television commercial at the age of 11. Having the honor of being recognized as an "A" Grade Artist of All India Radio, he has given public performances along with his guru. Since then he has lent the enchanting music of his tabla to numerous commercials. We hear his tabla ringing in the background of the film "Everybody Says I am Fine" where Zakir Hussain composed the background score. To quote the acknowledging words of tabla maestro Ustad Zakir Hussain for his young, talented disciple; "Even a young player like, say, Aditya Kalyanpur has the ability to approach the instrument with much more expertise than someone of his age would do 30 years ago." Honored with the title of 'Taal – Mani', Aditya Kalyanpur is the recipient of I.T.C's prestigious "Vidyasagar Award" as well as the "Sangeet Visharad." He has performed with many famous groups in a variety of genres, including the Rolling Stones.

Doug McKeehan (keys)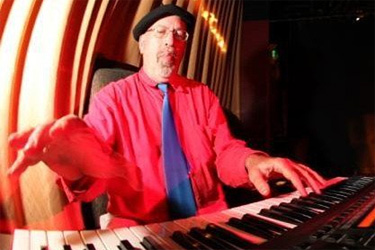 Doug McKeehan started his piano studies at age five, and began his first professional work at the age of twelve. He studied music at the Oberlin Conservatory, Kent State University, and the University of Otago (New Zealand). He has toured Europe twice and spent considerable time in India studying with notable Indian music teachers such as Pandit Ram Narayan, Ustad Kursheed Khan and Pandit A.G. Bhattacharya. He has composed original music for stage and T.V. productions in San Francisco and Los Angeles and has been musical director of two original musical comedy productions. He cofounded Air Craft with violinist Bruce Bowers, which released a highly acclaimed progressive jazz album, So Near, So Far (Crafted Air CA 30100). Since joining Ancient Future in 1985, he has performed hundreds of concerts with the band.

Matthew Montfort (band leader, scalloped fretboard guitar)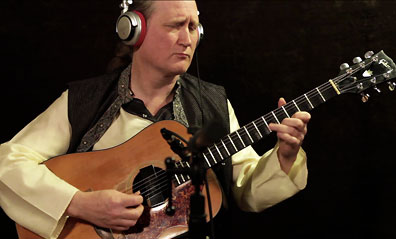 Hi-Res Photo (300 dpi, 5" x 3") of Matthew Montfort
Matthew Montfort is the leader of the world fusion music ensemble Ancient Future. He is a pioneer of the scalloped fretboard guitar (an instrument combining qualities of the South Indian vina and the steel string guitar). Montfort spent three months in intensive study with vina master K.S. Subramanian in order to fully apply the South Indian gamaka (note-bending) techniques to the guitar. In 2009, he released his first solo guitar recording, Seven Serenades for Scalloped Fretboard Guitar, which debuted at #8 on Zone Music Reporter's Top 100 February 2009 World Radio Chart, and held the #34 spot on the Top 100 of 2009. He has performed concerts worldwide, including at the Festival Internacional de la Guitarra on the golden coast of Spain near Barcelona and the Mumbai Festival at the Gateway of India in Bombay. He has performed live on national radio and TV shows such as the Rachel Maddow Show on MSNBC. Montfort wrote the book Ancient Traditions - Future Possibilities: Rhythmic Training Through the Traditions of Africa, Bali, and India, which has been used by many musicians to improve their rhythm skills.
About
World's Longest Running Band Dedicated to the Creation of World Fusion Music "Ancient Future offers evocative world music imbued with graceful simplicity." – Bob Tarte, THE BEAT BILLBOARD calls the group "trendsetters" for contributing to the emerging movement known as world fusion music, a term Ancient Future leader Matthew Montfort coined at the...
more
Genre
fusion
,
traditional
,
african
,
micronesian
,
world fusion music
,
north indian
,
south indian
,
samba
,
jazz
,
celtic
,
andean
,
vietnamese
,
balinese gamelan
,
arabic
,
rock
,
european classical
,
caribbean
,
reggae
Welcome to EthnoCloud
A platform for Ethnically and Culturally inspired music.
80,000+ Global Followers
4,496 Artists
884 Industry Professionals