Artist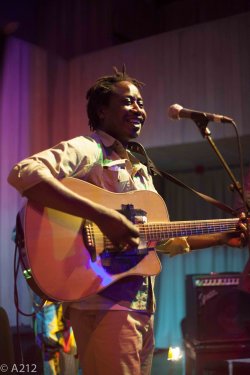 The son of a gawlo (minstrel caste) player of an indigenous guitar called the xalam, Senegalese singer and songwriter Biram Seck has a voice truly unique for it's raw husky quality and deep emotion.Biram's people, the Wolof, dwell along the coast of West Africa and have had much experience over the centuries in encountering new cultures and their ideas. Biram exemplifies their spirit of open-mindedness and adaptability. He has always sought a more international accompaniment for his raw husky voice than the mbalax dance style that Senegal is best known for.It was one of Biram's songs that brought the Bristol/Dakar Collaboration project 'Suuf' to the attention of Radio 3's Late Junction show and resulted in Suuf being signed to the programme's fledgling record label of the same name. The band's début album Debbo Hande, featuring Biram on four tracks, was released in October 2002. The following summer Biram and the other Senegalese artists travelled to the UK to take part in a 19-date tour, including a live broadcast on Radio 3 from the WOMAD festival.The most recent chapter in Biram's musical life came about through a chance meeting with UK musician and producer, Pete Josef. From small beginnings in a front room in Easton, Bristol, Biram's musical passion and exuberance once again captivated and enthralled, eventually leading to a writing andproduction partnership. The first examples of their work together reflect the unique connection between these two disparate musicians, as they are truly discovering a sound that transcends continents; the perfect vehicle for Biram's message. As he says himself…
"I would like you to consider my songs messages of education, peace, unity and civilisation. I love music because it is a means of communicating ideas to broaden minds and build an integrated world, a world of peace."
In 2014, Biram has another project called 'Jant' which consists of an aritiste named Alice Mary Williamson, the pair are currently playing intimate acoustic gigs in London/Uk.
About
The son of a gawlo (minstrel caste) player of an indigenous guitar called the xalam, Senegalese singer and songwriter Biram Seck has a voice truly unique for it's raw husky quality and deep emotion.Biram's people, the Wolof, dwell along the coast of West Africa and have had much experience over the centuries in encountering new cultures and their ideas. Biram exemplifies their spiri...
more
Welcome to EthnoCloud
A platform for Ethnically and Culturally inspired music.
80,000+ Global Followers
4,958 Artists
915 Industry Professionals