Artist
When:
Location:
Berkeley

-

California

,

United States
Venue:
Freight and Salvage, 2020 Addison Street
Ancient Future 40th Anniversary & Bandleader Birthday Party at the Freight and Salvage, Berkeley, Feb. 12, 2019

Hi-Res Photo of Ancient Future Circa 1979 (1.3 MB). Shown: Benjy Wertheimer, Phil Fong, Mindia Devi Klein, Matthew Montfort
Celebrating 40 Years of World Fusion
Ancient Future's first concert took place on February 11, 1979, at the Sleeping Lady Cafe in Fairfax, California, a vegetarian cafe and music club co-op that was the center of a vibrant local music scene. It was the day before Ancient Future leader Matthew Montfort's birthday, who was not yet of nightclub age. This concert on Montfort's birthday celebrates Ancient Future's 40 years at the forefront of the world fusion music movement.
The exact lineup for the show has not yet been announced, but it will include musicians from Ancient Future's long history of cross cultural music collaborations. It will feature top master musicians from around the world along with band members from the original and historic Ancient Future lineups. Stay tuned for surprise announcements of featured musicians.
Tuesday, February 12, 2019 8 PM
Freight and Salvage
2020 Addison Street
Berkeley, CA 94704
Tix: $20 in advance at the F&S, $24 at the door. All tickets are subject to an additional $4 per ticket facility fee. Purchase Tix.
Box Office Phone: 510-644-2020, open 12:30 PM–7 PM (excluding holidays) and during all performances.
Email: info@freightandsalvage.org
Facebook Event

Poster (246k .pdf)
Ancient Future History: Reunion Concerts of YoreOriginal Lineup Reunion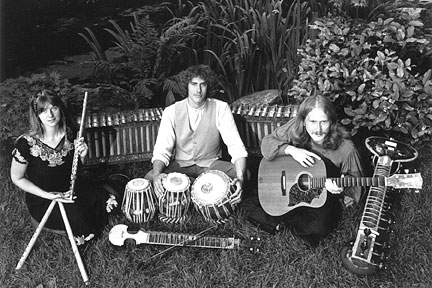 Hi-Res Photo of Ancient Future Circa 1981 (1.2 MB). Shown: Mindia Devi Klein, Benjy Wertheimer, Matthew Montfort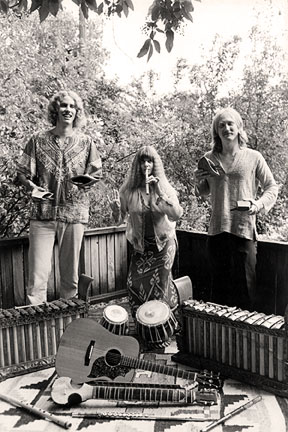 Ancient Future was formed in late 1978 by students at the Ali Akbar College of Music in San Rafael, California, including Mindia Devi Klein (who went by Mindy in those days), Matthew Montfort, Benjy Wertheimer, and Phil Fong. Ancient Future's first concert took place to a packed house on February 11, 1979, at the Sleeping Lady Cafe in Fairfax, California, a vegetarian cafe and music club co-op that was the center of a vibrant local music scene.
This lineup of Ancient Future made two recordings that are now considered world fusion classics. In December, 1978, the band went into Tres Virgos Studio in Mill Valley to record Montfort's song Moonbath. The song became the springboard for the first Ancient Future record, Visions of a Peaceful Planet. The concept for Natural Rhythms, the band's second record, grew out of a spontaneous recording session at a friend's recording studio near a frog pond. The sound of croaking frogs was leaking into the studio, so Montfort went out to the pond with a zither and began to play, and found that certain rhythms produced musical responses from the frogs. Several months later, Montfort and Klein went to Bali to study gamelan music. They were amazed to find paintings all over the island portraying Balinese rice paddy frogs playing gamelan instruments, so they ventured out into the rice paddies where a frog jam session ensued that became part of the Natural Rhythms release.
On April 19, 2015, three members of the original lineup of Ancient Future performed together for the first time this century to a full house at the Throckmorton Theatre in Mill Valley. Sadly, Phil Fong was unable to attend the reunion as he was battling ALS. He passed away on July 18, 2016.
Hi-Res Photo of Ancient Future Circa 1981 by Sherry Freeman (1.1 MB). Shown: Benjy Wertheimer, Mindia Devi Klein, Matthew Montfort
Archaeological Discovery of First Ancient Future Video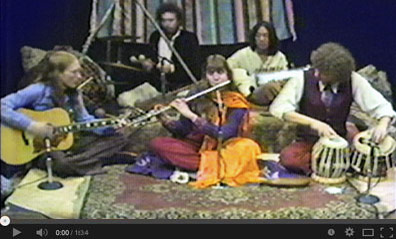 YouTube Video of Ancient Future Circa 1978. Shown: Matthew Montfort, Yusef Ali, Mindia Devi Klein, Phil Fong, Benjy Wertheimer
This video is an amazing archaeological find: the very first video of Ancient Future, recorded in late 1978, months before Ancient Future's first concert! Thanks to Jonah and Mariposa at Marin Artists International who, after learning of this reunion concert, were able to rescue parts of Ancient Future's first video recording session from archival oblivion. This short teaser from 'Eternal Embrace' by Phil Fong from Visions of a Peaceful Planet is the first release from this archeological expedition. Performances of two complete pieces have been recovered, and will be released after some audio restoration work is completed.
'World Without Walls' Reunion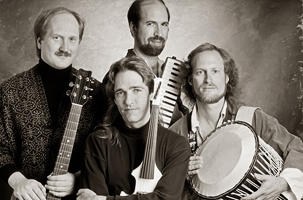 Hi-Res Photo by Irene Young of Ancient Future Circa 1990 (14.7" x 9.7" jpg, 7.2 MB). Shown: Matthew Montfort, Jim Hurley, Doug McKeehan, Ian Dogole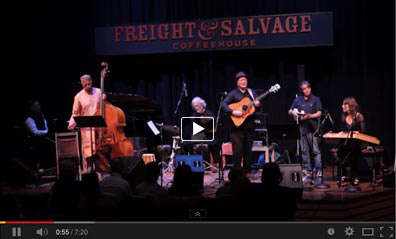 YouTube Video of Ancient Future at their 'World Without Walls' Reunion. Shown: Doug McKeehan (keyboards, piano), Kash Killion (bass), Ian Dogole (percussion), Matthew Montfort (scalloped fretboard guitar), Jim Hurley (violin), and Mariah Parker (santur)
This lineup of Ancient Future that performed on the band's influential World Without Walls and Asian Fusion recordings played over a hundred concerts together from 1988 to 1995. In 2011, they reunited for the first time in 15 years to perform concerts at Todos Santos Plaza in Concord and Yoshi's in San Francisco. In honor of the reunion concerts, World Without Walls was released digitally by Capitol Records for the first time ever at major digital retailers such as iTunes. Twenty two years after its initial release in 1990, broadcasters worldwide voted the record as one of the top 5 world music releases of 2012, after which Ancient Future continued to perform reunion concerts at venues such as the Frick Museum in Pittsburgh, Pennsylvania, and Berkeley's Freight and Salvage.
"Ancient Future is a rare kind of band that might simultaneously aggravate purists, confound New Age dilettantes, seduce skeptics, and dazzle just about everybody else. Delicious compositions, intricate arrangements, crisp playing and impeccable production put these ambitious voyagers in a league of their own." - Derk Richardson, SAN FRANCISCO BAY GUARDIAN
Bandleader and Birthday BoyMatthew Montfort (band leader, scalloped fretboard guitar)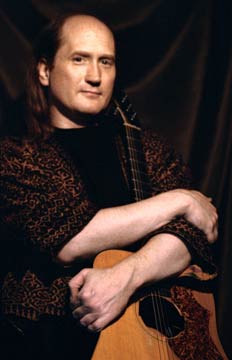 Matthew Montfort is the leader of the world fusion music ensemble Ancient Future. He is a pioneer of the scalloped fretboard guitar (an instrument combining qualities of the South Indian vina and the steel string guitar). Montfort spent three months in intensive study with vina master K.S. Subramanian in order to fully apply the South Indian gamaka (note-bending) techniques to the guitar. In 2009, he released his first solo guitar recording, Seven Serenades for Scalloped Fretboard Guitar, which reached #8 on Zone Music Reporter's World Radio Chart. He is recognized as one of the world's 100 Greatest Acoustic Guitarists by DigitalDreamDoor.com, a curated "best of" site, along with such luminaries as Michael Hedges, Leo Kottke, Chet Atkins, John Fahey, Merle Travis, John Renbourn, Tommy Emmanuel, and Doc Watson. The December 2009 Les Paul issue of Guitar Player Magazine includes a full page feature on Matthew Montfort with a corresponding GuitarPlayer.Com video and lesson entitled "The Music of Jimi Hendrix Applied to Indian Raga." He has performed concerts world wide, including at the Festival Internacional de la Guitarra on the golden coast of Spain near Barcelona and the Mumbai Festival at the Gateway of India in Bombay. He has performed live on national radio and TV shows such as the Rachel Maddow Show on MSNBC. Montfort wrote the book Ancient Traditions - Future Possibilities: Rhythmic Training Through the Traditions of Africa, Bali, and India, which has been used by many musicians to improve their rhythm skills.
Coconspirators and Likely Guest ArtistsGeorges Lammam (Arabic violin and vocals)
Georges Lammam, of Palestinian descent, was born in Beirut, Lebanon. He is a solo violinist exemplifying the Arab style of instrumental improvisation. Mr. Lammam toured in Bolivia with renowned artists Eddie and Gabriel Navia, and joined stellar performers hosted by JoinedHands (USA NP), organized by Marcus Lovett (Phantom of the Opera), to support refugee families and humanitarians in the refugee camp in Chalkida, Greece, hosting thousands of people from Syria, Iraq, and Afghanistan. His compositions and performance excerpts are included in scores for two award-winning documentaries: Occupation 101 and Tea on the Axis of Evil, and he recorded a well-known folkloric dabke (an Arab folk dance) in a 2016 feature film, Wrestling Jerusalem by Aaron Davidman. His newest CD, Opus Omnia, was released in 2017.
"He has magic in his hands" - HINDUSTANI TIMES
Considered one of the most gifted tabla players of his generation, Vishal was born into a family of musicians and had his initial training for a very brief period with the late Ustad Latif Ahmed Khan of the Delhi Gharana. After his Ustad's untimely demise, Vishal continued his training under the guidance of Ustad Shamim Ahmed Khan of the same Gharana (school), and he also has had intense rhythmic training from his mother, the renowned and highly respected Kathak dancer and vocalist, Urmila Nagar. Vishal has been praised in the Indian press for his unique combination of melodic tabla sound production with masterful command of rhythm. Vishal has had the privilege of performing with many renowned artists: Ustad Shujaat Khan, Guru Urmila Nagar, Vidhwan Trichur Ramachandran, Pandit Ramesh Misra, and Kala Ramnath, to name a few. Vishal has also expanded his cultural boundaries and collaborated with musicians from around the world. Some of his memorable works have been with the Ghanaian Guitarist Koo Nimo with whom he also appeared in WOMAD USA (a leading world dance and music festival started by Peter Gabriel).
Shenshen Zhang (Chinese pipa)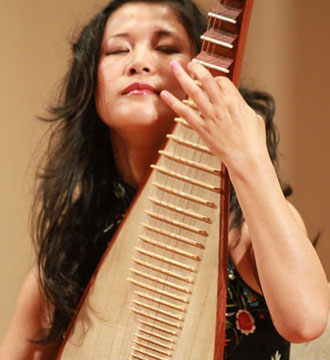 A native of Wenzhou, China, Shenshen Zhang began playing the pipa at the age of nine. At thirteen, she auditioned and was accepted into the prestigious Central Conservatory of Music in Beijing, where in 1992, she was awarded a Bachelor's Degree. In 2005, Ms. Zhang received Master's Degree in Musicology from Xiamen University. As an award-​​winning concert soloist, she performed and toured extensively throughout Asia and the U.S. Since making her home in SF Bay Area in 2006, Ms. Zhang has combined her lengthy performance career and her vast experience as an educator, preserving the musical heritage of China while also exploring other world cultures. Ms. Zhang taught music at Stanford University from 2015 to 2017, and she has her own pipa studio in Silicon Valley where she teaches classical Chinese music to a diverse student population.
Pandit Habib Khan (sitar)
Pandit Habib Khan is regarded as one of the best sitar players in the country today. He was born into a family of musicians and can trace his lineage back several generations to when classical music enjoyed the patronage of the nobility and royalty of India. He began his training at the tender age of five under the strict eye of his accomplished father, Ustad Hameed Jaffer Khan. The Jaffer Khan family was from Indore and were well known for their unique style of playing the sitar, melding the effect of the human voice and the instrumental tone into a harmonious whole. Habib Khan has carved out a distinct style of his own which is a blend of his father's traditional techniques and his own imaginative inventions. He is as much at ease with light classical and religious music as he is with pure classical renderings of ragas.
Mindia Devi Klein (Indian bansuri & silver flutes, Balinese gamelan)
Mindia Devi Klein is a founding member of Ancient Future and an award winning musician, composer and educator. Known primarily for her rare and haunting Indian bansuri flute music, she was actually born in Brooklyn, New York, where she began her formal music training at the tender age of two with African American folk singer Charity Bailey. Early exposure to the jazz greats and the vast diversity of the world's music left her hungering for a doorway into the mystic heart and roots of music. She followed her muse to California and the Ali Akbar College of Music where she met and began training with Ustad Ali Akbar Khan for over 40 years at Ali Akbar College of Music in San Rafael, California. She also trained under bansuri maestro G.S. Sachdev and then learned in India under guidance of world renown bansuri flutist Pandit Hariprasad Chaurasia. A recipient of the American Institute for Indian Studies Smithsonian Fellowship, the Fulbright Scholarship in Balinese gamelan and numerous community arts and composition awards, Mindia's playing and compositions blend together the sounds and ideas of many worlds in a subtle and unique way.
Benjy Wertheimer (tabla, percussion, and esraj)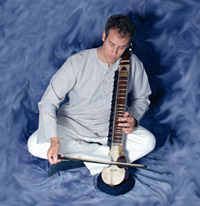 Benjy Wertheimer is a founding member of Ancient Future. An award-winning musician, composer, vocalist and multi-instrumentalist equally accomplished on tabla, congas, percussion, esraj, guitar, and keyboards, he has performed and recorded with such artists as Krishna Das, Deva Premal and Miten, Jai Uttal, Walter Becker of Steely Dan, tabla master Zakir Hussain, and bamboo flute master G. S. Sachdev. He began his musical studies at age five, starting with piano and later violin, flamenco guitar, and Afro-Cuban percussion. Benjy has been a student of Indian classical music for over 40 years, sitting with some of the greatest masters of that tradition, including Alla Rakha, Zakir Hussain, Ali Akbar Khan and Z. M. Dagar. Along with the Grateful Dead's Mickey Hart, he was a contributing composer and member of the Zakir Hussain Rhythm Experience. For over five years, Benjy scored music for the internationally syndicated NBC series Santa Barbara, and his CD Circle of Fire went to #1 on the international New Age radio charts in 2002. Making his home in Portland, Oregon, he now tours internationally with his wife Heather in the kirtan group Shantala.
Jim Hurley (violin)
Jim Hurley, multi-instrumental performer, composer and educator, began playing violin in the Livermore public schools, and later explored rock guitar and bass, jazz and world music, improvisation and composition. Influenced profoundly by South Indian violinist L. Shankar, he incorporates styles from bebop to zydeco, European classical to Zairean soukous. He studied violin with Dr. Madeline Schatz, protege of Jascha Heifetz and Josef Gingold, at Humboldt State University, where he earned his B.A. in Music. Jim's professional credits include performances and recordings with Queen Ida's Grammy-winning Bon Temps Zydeco Band, Deep Purple guitarist Ritchie Blackmore, all-China gu zheng virtuoso Zhao Hui, the Trans-Siberian Orchestra (with Jon Anderson from Yes), Kenneth Nash (Weather Report, Herbie Hancock, Dizzie Gillespie alumnus), Dan Hicks, Al Stewart, Josh Groban, Smokey Robinson, Stanley Jordan, the Waybacks, Tempest, and many other artists. He has performed on NBC's Saturday Night Live, NPR's A Prairie Home Companion, and at numerous festivals including New Orleans Jazz and Heritage, Monterey Jazz, Winnipeg Folk, and Strawberry Music.
Doug McKeehan (keys)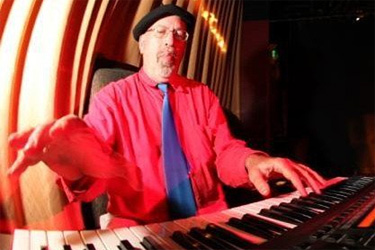 Doug McKeehan started his piano studies at age five, and began his first professional work at the age of twelve. He studied music at the Oberlin Conservatory, Kent State University, and the University of Otago (New Zealand). He has toured Europe twice and spent considerable time in India studying with notable Indian music teachers such as Pandit Ram Narayan, Ustad Kursheed Khan and Pandit A.G. Bhattacharya. He has composed original music for stage and T.V. productions in San Francisco and Los Angeles and has been musical director of two original musical comedy productions. In 2008 he was commissioned to compose and perform live music for the Diablo Ballet's production Jazz Fever. He cofounded Air Craft with violinist Bruce Bowers, which released a highly acclaimed jazz fusion album, So Near, So Far. He is a first call jazz pianist in the San Francisco Bay Area.
Ian Dogole (percussion)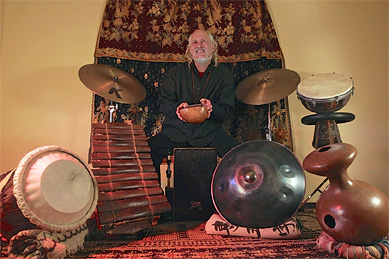 Ian Dogole has articulated his vision of global fusion music as a multi percussionist, bandleader, educator, recording artist, composer and producer. He has released seven records and a DVD as a leader – Along the Route, Dangerous Ground, Ionospheres, Night Harvest, Convergence, Crossroads, Outside the Box – Jazz Journeys & Worlds Beyond and Ian Dogole & Hemispheres In Concert (DVD). Ian has recorded and performed with artists such as Hamza el Din, Tito La Rosa, Richie Cole, Paul McCandless and Alex de Grassi. He performs on a wide variety of percussion instruments, including udu, cajon, hang, African talking drum, kalimbas, cymbals and dumbek.
About
World's Longest Running Band Dedicated to the Creation of World Fusion Music "Ancient Future offers evocative world music imbued with graceful simplicity." – Bob Tarte, THE BEAT BILLBOARD calls the group "trendsetters" for contributing to the emerging movement known as world fusion music, a term Ancient Future leader Matthew Montfort coined at the...
more
Genre
fusion
,
traditional
,
african
,
micronesian
,
world fusion music
,
north indian
,
south indian
,
samba
,
jazz
,
celtic
,
andean
,
vietnamese
,
balinese gamelan
,
arabic
,
rock
,
european classical
,
caribbean
,
reggae
Welcome to EthnoCloud
A platform for Ethnically and Culturally inspired music.
80,000+ Global Followers
4,110 Artists
847 Industry Professionals